The George Formby Society received some wonderful free
publicity by being associated with the Royal event, on this page
are some radio interviews and newspaper clippings highlighting
the historic day.
BBC Radio Tees
GFS chairman Caroline Stewart was featured
on BBC Radio Tees and did a great job telling
listeners all about the day and her reactions to
playing in front of Her Majesty and a audience
of over 5000 people.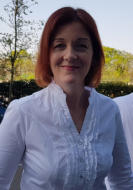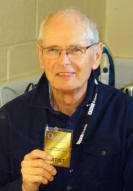 BBC Radio Stoke
John Walley, the most senior member of the
Society, gave a short interview to Radio Stoke
and reflected on how he felt on the big day
and spoke about the Queen's love of George
Formby.
Harry Hill and Ed Balls chat shortly after
their performance about the Society and
their thoughts on playing with the other
members of the group.
South Shields ukulele star schoolboys picked to
play George Formby classics at Queen's birth-
day concert
Two young ukulele players will
be hoping for the royal seal of
approval when they show off
their talents for the Queen.
James Bassett - who is well-
known in the borough for his
talents with the musical
instrument made famous by
comedian George Formby - has
been invited to take part in the
Queen's Birthday Concert at
London's Royal Albert Hall next
Saturday.
He will be joined on stage with
Tai Steehouder, who was
inspired to pick up the ukulele
after seeing James play. The
duo from South Tyneside are
two of three young ukulele players from the George Formby Society
who have been asked to perform at the event which will be televised.
They will play alongside a 40-strong group of the society's members.
Her Majesty is a big fan of Formby, and once had desires to be a
patron of the society.
Harton Technology School pupil, James, 14, from Walworth Avenue,
has been playing the ukulele for a number of years and last year was
featured on ITV1's Little Big Shots with Dawn French. Over the years
he has played at a number of events and fundraisers across South
Tyneside.
James, who is a member of the George Formby Society, said: "It is
all a bit surreal. When my mam got the phonecall. I thought it was a
joke at first. "I've played in front of crowds before and on TV but this
is something different. I've never played to a crowd as big as this
before. "When I was on Little Big Shots you had the cameras and an
audience but it was just like playing in front of a normal crowd. But
this is the Royal Albert Hall it is going to be massive and it is going to
be live." The event will be marking the Queen's 92nd birthday and will
feature performances from Sir Tom Jones, Kylie Minogue, Craig
David, Sting and Shaggy among a host of other acts yet to be
announced.
The celebrations will be
televised live on April
21. Tai, 12, from
Stanhope Road, who
attends St Wilfrid RC
College started playing
the ukulele last year
after receiving the
instrument as a
Christmas present. He
had been introduced to
the music of George
Formby following a trip
to the Eden Camp. He has been receiving lessons from James and
also attends sessions of the George Formby Society. He said: "It's a
mixture of being excited and being nervous. I'm excited to gvo and
I'm excited to play."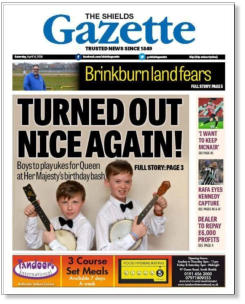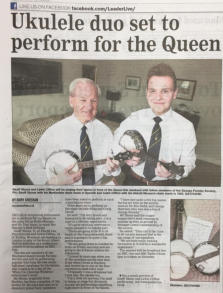 Geoff Shone and Lewis
Clifton feature in The
Flintshire Leader
GFS drummer and one of the
younger leading lights of the
Society, Geoff Shone and Lewis
Clifton featured twice in the
Flintshire Leader, highlighting
the forthcoming concert and then
their thoughts on appearing were
recorded in a later edition.
Geoff said, "It was a real honour
for me and Lewis, from Flintshire
Castleford GFS
The Castleford GFS branch, led by Andy Poppleton featured in the
Pontefract and Castleford Express when they highlighted the fact that
six members of the branch were on the trip to London. Peter Pollard,
Dale Norman, Daz Barry, Tony Lister, Andy Poppleton and Cassie
Dalton-Morris were the lucky members to be chosen.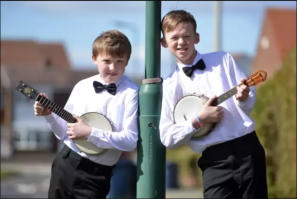 Jim and Daz make the news!
Jim Makin and Daz Barry
representing the Barn Howlers
Ukulele Club were featured in
the Bolton News when they
appeared at the Queen's
Birthday Party.
It was an experience I'll never
forget. Playing alongside the live
orchestra on stage at the Royal
Albert Hall was absolutely
amazing. I really enjoyed
performing for the Queen and
meeting all the celebrities and
other performers."
Daz added, "It was a really emotional experience. Not only did we
perform to the audience in the Royal Albert Hall, we also performed
to millions of people around the world.
It was just amazing and we've had some fantastic feedback. It was
such an honour to play for the Queen and everyone really enjoyed
it."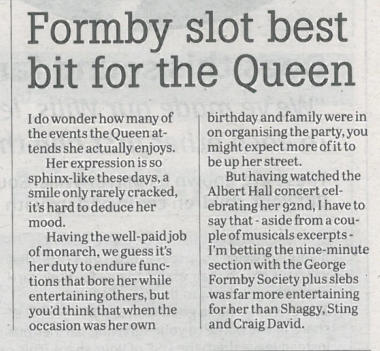 Formby slot best bit for the Queen
This clip from the Sunday Telegraph highlights the fact that The
George Formby Society performance all who paid their own hotel
expenses was not disgraced when put alongside their fellow
entertainers on the big night. The reporter said, "I have to say - aside
from a couple of musical excerpts - I'm betting the nine-minute
section with the George Formby Society plus celebs, was far more
entertaining for her than Shaggy, Sting and Craig David.
the queen's birthday party




and Wrexham to represent North Wales and perform in front of the
Queen and family. We had a great reception, the audience went wild
and when we finished When I'm Cleaning Windows there was en
eruption of applause. I think we did George Formby proud. It was
unbelievable, we were all over the moon afterwards."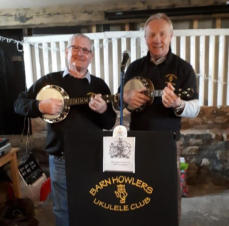 Catalina and Francesca Davies, aged 14 and 20 respectively, gave a
rendition of When I'm Cleaning Windows with fellow George Formby
Society members alongside Frank Skinner, Harry Hill and Ed Balls in
front of around 5,000 people at the Royal Albert Hall.
Their singing and ukulele performance was also screened live on TV
to millions more viewers across the UK.
While Catalina is 'top of the class in music' at Great Sankey High
School, Francesca is currently coming to the end of her studies in
music at Liverpool Hope University.
Francesca, who has previously performed solo in venues including
the Brindley in Runcorn and the Liverpool Philharmonic, said: "All the
royal family were there and the Queen is a big fan of George Formby.
"He performed for the Queen and the royal family in the 1930s and
1940s so she was nodding along to the song – apparently she wants
to be the president of the George Formby Society.
"Our president and secretary actually managed to meet her after the
show and she asked them whether it was difficult to play the ukulele,
and Prince Charles said they would have to join the society.
"This has been a really big step and I'm absolutely honoured – it still
hasn't sunk in yet but it was the best experience ever."
Francesca's love of George Formby's work began when she was still
in primary school, with the comedian inspiring her to pick up the
ukulele.
She said: "I used to be a big fan of Laurel and Hardy, and I over
watched all their video cassettes so my uncle said I should watch
George Formby's films.
When I watched I See Ice and I knew I had to get a ukulele - I was
about seven years old and I haven't stopped playing since.
I just love his lyrics and the big ending where you can do the solos -
they're brilliant."
The pair, who live in Newton-Le-Willows, also perform as an Andrews
Sisters tribute act under the name of the Davies Sisters.
Kylie Minogue, Tom Jones, Sting, Shaggy and the Prime Minister
Theresa May were also present during their gig for the Queen's
birthday.
With the society, they gave an impromptu performance at Euston
Station after their big night when their train home was hit by delays.
Francesca said: "There was an hour delay to our train so we
performed at Euston Station – everyone was taking pictures and it
ended up being the most trending hashtag on Twitter."
Proud dad Ivor added: "Francesca has been playing since the age of
six and Catalina has grown up watching George Formby until the
cows came home from when she was about 18 months old.
Catalina is top of the class in music now and Francesca has been
getting good grades at university. They've gone on and on and
progressed and they're playing venues all over the country now."
Article by Adam Everett for The Warrington Guardian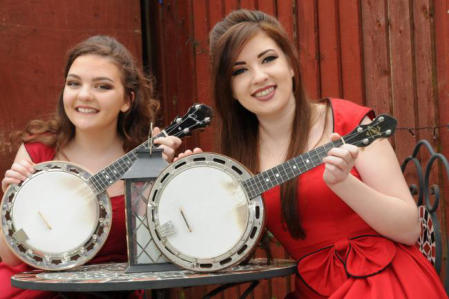 TWO sisters performed George Formby's most
beloved hit for the Queen during her 92nd
birthday party.

John Walley features in The Sentinal
Founder member John Walley was the subject of a very nice article
in his local newspaper, The Sentinal on the day of the Queen's
Birthday Party concert.
Matt Jackson presented some detailed information about the big
event and gave a brief potted history of John and his love of Formby
and the banjo-uke.
John said, "When I look at the line-up, we were the only ones most
people won't have heard of. I've never quite played a show like this
but it will be a good chance to promote the Society."