Today I am informed that the work is finally complete and the
monument is restored to its former glory. The final act was to replace
some of the lettering that had been damaged.
This has been such a fulfilling exercise, the people who's names are
displayed below are responsible for the restoration. Their generosity
in helping to fund the work is to be applauded. Together with
members of the GFS committee the goal has been achieved and the
monument (judging from the image at left) looks fantastic.
Congratulations to all those who subscribed, all those who
organised and also to the skilful people who did the restoration.
The George Formby Society wishes to thank…
Renee Gathercote
Adam Adam
Tony Edwards
Val and Trevor Harper
Neil Forshaw
Hilda Southworth
Jim Pomfret
Roger and Norma Newton
Billy Wheeler
Bill Wiltshire
Steve Langford
Jeffrey Lane
Helen Weathers
Dennis and Debbie Lee
Joyce Dent
Martin Thomas
Philip and Jean Moreman
Barry Wiltshire
Edwin and Dale Uttley
Andy Bibby
Richard Brown
The GFS London branch
Geoffrey and Pat Silcock
Andrew Poppleton
Paul Conroy
Mike O'Dwyer
Tony and Pat Thornton
Lesley and Martin Fowkes
Malcolm and Andrew
Palmer
Victor and Christine
Heald
Derek and Linda Herbert
Gerry and Vivien
Mawdsley
Dean Spencer
John and Gill Walley
Tony and Frances Lister
Kate and John Howard
Malcolm Rigby
Daniel Wiles
Anthony and Marion
Rosamund
Peter and Kathryn Pollard
John Sanson
Mervyn and Christine Kay
Geraldine Smith
Dean Spencer
Michael Davidson
Richard Taylor
Rod Dennis
Daz and Pat Barry
Caroline and Ray Stewart
Tony Close
Gary Hammerton
Paul Kenny
David Beere
Neil Baxter
Robert Duncalf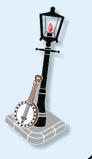 On behalf of all involved in the task of restoring the
monument, I would like to thank all those generous people
who unstintingly donated towards the cost of the work done.
Whilst care of the monument is not the responsibility of The
George Formby Society, without our intervention and the
generous donations of all those listed below, the work would
not have happened.
Well done to all who committed to the task,
between us we have raised a magnificent
£1949.46
Peter Pollard
19 December 2017
This image was taken before restoration work began.
Mark Appleton (Mason) and Rebecca Patton (Memorial
Officer) can take pride in a brilliant final result.