DUE TO THE UNPRECEDENTED TIMES THAT WE ARE GOING THROUGH
WITH COVID-19 AND THE CANCELLATION OF THE SEPTEMBER 2020
BLACKPOOL CONVENTION, THE GRAND DRAW FOR THE 2020 GEORGE
FORMBY SOCIETY UKULELE RAFFLE WILL TAKE PLACE AT THE HOME OF
KATHRYN AND PETER POLLARD ON 07 NOVEMBER, 2020.
THE EVENT WILL BE FILMED AND MADE AVAILABLE ON THE GFS
YOUTUBE CHANNEL AT 20:00 (8:00 PM) AND ALSO THE FILM CLIP WILL
BE ON THE GFS WEBSITE ON THE SAME DATE.
DETAILS WILL ALSO BE INCLUDED IN THE NEXT ISSUE OF THE VELLUM
AFTER THE DRAW DATE WHICH WILL BE MARCH 2021.
TICKETS WILL BE IN THE NEXT ISSUE OF THE VELLUM AND MEMBERS
WILL HAVE UNTIL 31 OCTOBER 2020 TO PURCHASE AND RETURN
TICKET STUBS TO OUR HOME ADDRESS WHICH IS DISPLAYED ON ALL
THE RAFFLE TICKETS.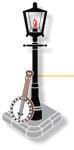 GFS Vice- President Andy Poppleton demonstrates the winning
prize - a lovely Gibson UB-2